KNITTED SCULPTURES 2003-2011
Exhibited at Penthouse and Pavement, Bus, West Space, Lake Macquarie Gallery, Conical, Melbourne Art Fair, Silvershot, TCB, RMIT Gallery, Margaret Lawrence Gallery, Canberra Contemporary Art Space, Don't Come Gallery, CAST, PICA, First Draft, MOP Projects, Bus Gallery, Gertrude Contemporary, Ararat Regional Gallery, Kunsthalle Krems, National Gallery of Australia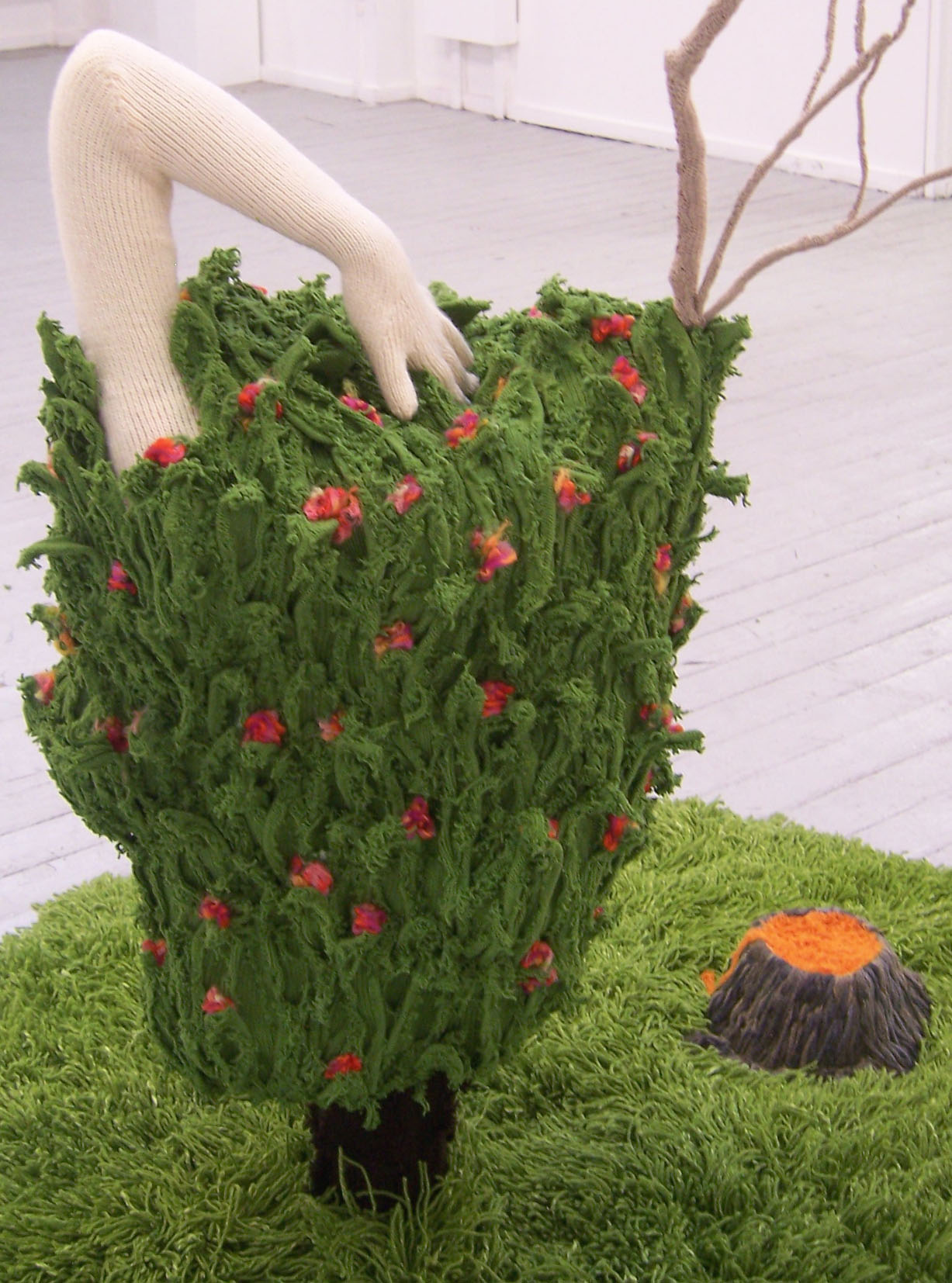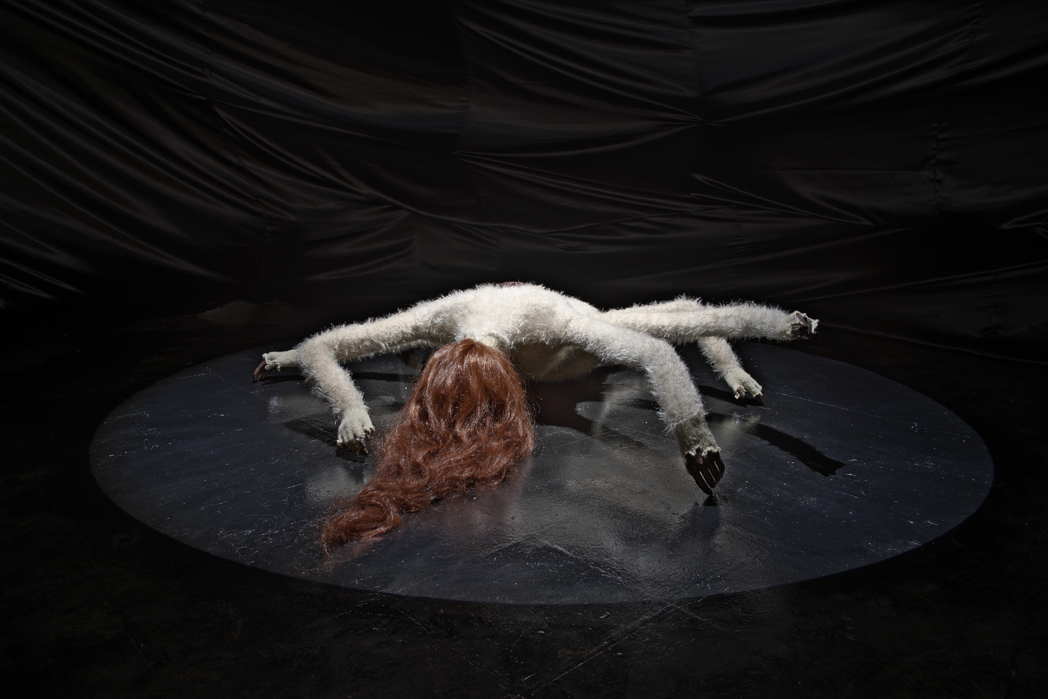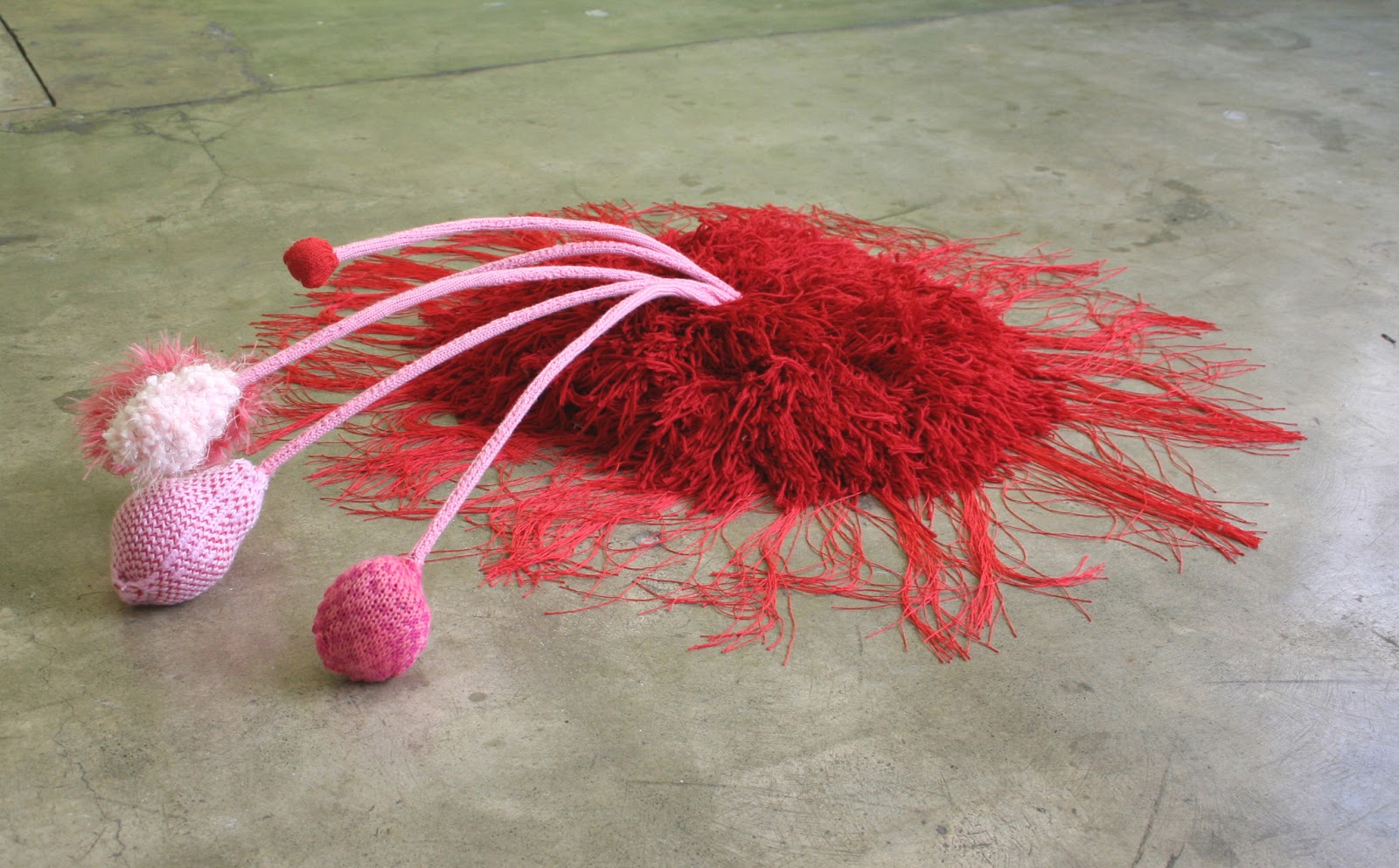 In her early sculptural works, Just harnessed knitting's primarily evocation of the feminine and domestic to explore notions of gender, family and self identity. Textile crafts such as knitting are intrinsically tied to humanity in common language: we speak of social fabrics, of close-knit families and of falling apart at the seams. When anxious, we knit our brows and when our bones break, they knit themselves back together again. As a sculptural medium, knitting draws people together, entices them to touch, reminds them of childhood and breaks down physical boundaries between audience and work.
Just was taught by her mother to knit at the age of twenty seven, following the death of her brother. Deeply affected by knitting's potential to weave stories of love, loss and family, Just took up knitting as her primary medium. Uniform (Dad) was her first large scale knitted sculpture and pictures the artist's father in his police uniform. Fertile Ground, a life-size knitted cornfield, refers to an area where Just grew up and revisits the use of corn fields in American films as a symbol of mysticism, danger or spiritual power. LOVE was inspired by Just's interest in emotional and physical boundaries and territories. It sprung from memories of driving through frozen Connecticut, USA during Christmas, to see the lights and elaborate decorations put out in broad suburban yards. Created over a year, LOVE re-imagines a boundary hedge as a message of warmth and invitation. It also acts as a symbol of the artist's resistance to policies of exclusion, as they continue to affect people from a diversity of religious, sexual, or ethnic backgrounds. Family is a knitted sculpture of Just's own family in the form of a ghostly tree. Family arose from childhood memories Just had of climbing trees with her brother and sister and reunites them, after his death.
In subsequent years, Just created knitted sculptures reinterpreting Greek and other mythologies that deployed physical transformation as a metaphor for personal struggle, awakening sexuality and creative power. Through the creation of these time intensive works, Just narrated difficult or significant life experiences, signalling knitting as a potent narrative or storytelling device. Paradise is a knitted scene that reinterpreted the myth of Persephone's descent into the underworld through a modern day, suburban image of a woman sinking into her own lawn. Persephone's tale symbolically refers to a journey into the dark and unknown regions of the self. Continuing this theme, Paradise weaves an image of the grief shared by the artist and her mother over the recent death of Just's brother. In My Daphne, Just reimagines the myth of Apollo's unrequited love of Daphne, and her chosen transformation into a laurel tree to reflect on experiences of coming out and migrating to Australia on her own. I Just Don't Know What To Do With Myself draws on the Greek tale of Arachne, in which a duel between weaving women (Arachne and Athena) results in Arachne's attempted suicide and conversion into a spider. Just's despairing spider figure is characterised by glossy painted mannequin hands and flowing synthetic red locks, and reflects the experience of depression. Shed That Skin was inspired by paintings by Van der Goes, Michelangelo, Hieronymous Bosch and Tiepolo which image the serpent tempting Eve with fruits from the Tree of Knowledge. Biblical descriptions and these paintings portray the serpent as a beautiful woman on the top and a snake on the bottom. In this work, Just sheds the skin of history which often marks women as conniving, evil or easily manipulated, and recasts the snake woman as an intimate, vulnerable reflection of her self. The Garden of Interior Delights is an ambitiously scaled knitted and sculptural reworking of the strange pink fountain from the first panel in Heironymous Bosch's painting The Garden of Earthly Delights (c.1500). Bosch's paradise is a fantastical one, featuring wildly imaginative structures that blend plant, body and man-made forms. While Art historians and theorists relate Bosch's pink fountain to the alchemical sign of Cancer, a pelican, or the pink robed 'God' figure in the foreground of the painting, Just reclaims and enlarges its uncanny resemblance to the female ovaries and fallopian tubes. Sewn folds of hand and machine knitted fabric create tubes, polyps, and bodily orifices, while macramé suspension devices, feathers, and latch-hooked red rug fragments and liquid woolen spray invoke a hovering totem to femininity.

This body of significant works was included in a survey exhibition at Ararat Regional Gallery entitled Kate Just: The Knitted Works 2004-2011. Read the exhibition essay by Anthony Camm here.